Valerie's Coffee Shop
Hi, it's me, Valerie! I'm glad you visited this page. Let me tell you something about myself. I am just a regular girl who works at a coffee shop and loves her job. Seeing the happy faces of customers when I serve them their favorite drinks is a thing that makes me happy too. I am still a bit clumsy at the job, but I try to improve every day :D
Around this time of year, it gets really stressful in the coffee shop and sometimes we have to deal with difficult customers. Despite all that I am really motivated. Could you help me to make this day at work a success? ;)
Gameplay:
Play as Valerie, a waitress at a small coffee shop. Help her to make her day successful and customers happy by giving them what they want. Customers will issue their orders to you and your job is it to serve them a cup of delicious coffee (or sometimes they are fine with just milk or sugar too). They get mad and will leave if you give them the wrong ingredients or too much of a certain ingredient. Some customers are also impatient, so you have to hurry to complete their order or they will just leave.
Make as many customers as possible happy by serving them properly. Making customers happy makes you happy and will also increase the profit of the coffee. They are more likely to come back to the coffee shop and who knows.. maybe they will bring some friends too!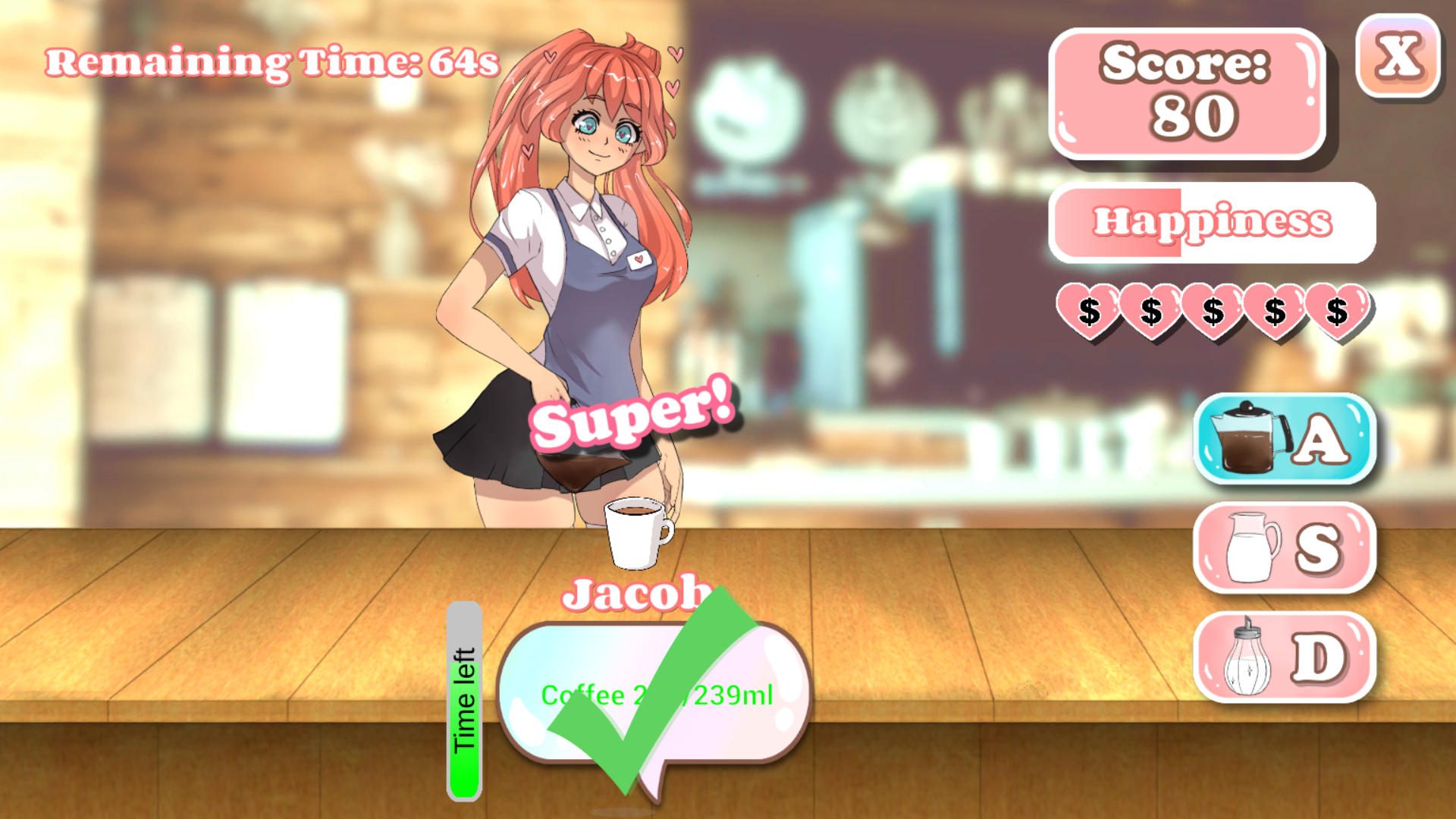 Features:
Charming and original anime-style art
Short and simple but engaging gameplay
Progressive difficulty - the better you do the harder the game gets
Multiple endings
COFFEE
Controls:
A - Pour Coffee
S - Pour Milk
D - Pour Sugar
Left/Right Arrow - Move/Switch to other customer
Creators:
FMProductions:
Programming, In-Engine Animations, UI-Layout-Design, Writing
Blank Canvas:
2D Art, 2D Animations, UI Icon + Layout Design
Have fun with the game!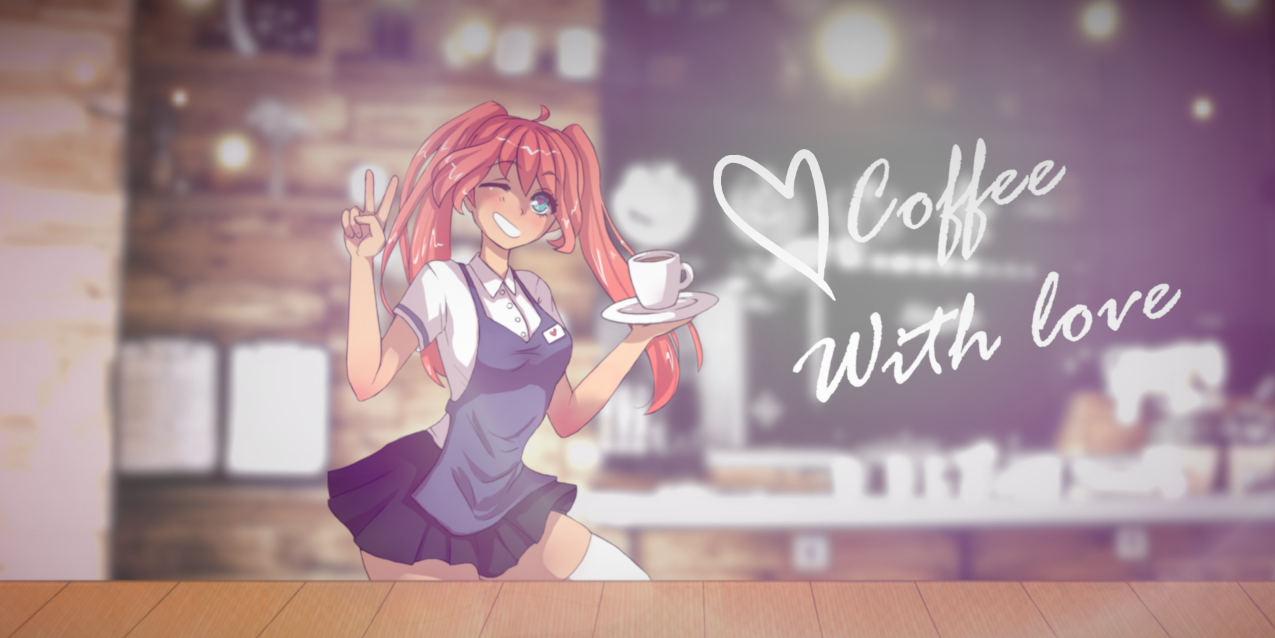 | | |
| --- | --- |
| Status | In development |
| Platforms | Windows, macOS, Linux, HTML5 |
| Rating | |
| Author | FMProductions |
| Genre | Simulation |
| Made with | Unity |
| Tags | 2D, Anime, coffee, Cute, Hand-drawn, Non violent, Short, Singleplayer, Unity |
| Average session | A few minutes |
| Languages | English |
| Inputs | Keyboard, Mouse |
Comments
Log in with itch.io to leave a comment.
This is the most ADORABLE game. You are the best Valerieee!
adorable game! i like how you can make coffee and the controls were pretty easy to work with, its nice you added the letters that you had to use in the game itself though for people who forget or anything and the way you can share highscores in this game with other people is fun, laslty i liked how things got harder the more you play, intresting stuff and great job!
Thanks for the kind words! I'm glad you enjoyed the game
Hahah cute! I kept getting stuff wrong
Are you hosting high scores on a server?
Yes! It's a very simple Firebase database that just accepts a name and a score (with some encryption checks). I tried something else before but there was the problem that itch.io does not allow http requests, so I had to look for something that works with https.
Dreamlo is what I had in my first implementation which only uses HTTP iirc, but then I switched to Firebase. Maybe there are other game hosting sites that allow it though.
damn hahah. It's alright then 😂 no leaderboard hahahah! I'll focus on doing art/design 😂😂😂
I really like this concept. I'm afraid I had to rage-quit the game because my fingers are too uncoordinated to pour anything except a pure black coffee. And who orders a cup of milk and sugar??!!
More updates are coming, so stay tuned people! ♥

enjoyed the game quite a bit!
Thank you for making a video about our game! and that is quite the interesting thumbnail you came up with :-)
lol no problem! thanks for the awesome game let me know once you added or chaned any content in the game!